"No amount of money can give me what your workshop has given me. I've had numerous revelations, made resolutions, gained introspection, intensified my intuition and heightened my confidence to live the life I truly desire."
-Rachel Pusateri, Entrepreneur

>MORE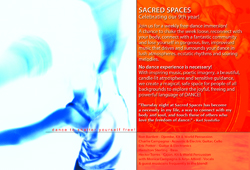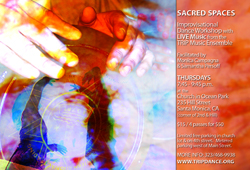 More Info: 323-468-9938 / trip@tripdance.org
For answers to common questions:
click here
JOIN OUR MAILING LIST ABOVE
to receive our monthly email updates which often include valuable discount coupons!



ABOUT SACRED SPACES:



Sacred Spaces is for anyone who wants to enjoy the freeing, joyful and communicative power of DANCE! Our workshops are enveloped in richly textured, improvised live music fusing guitar, atmospheric electronics, voice and poetic imagery with sizzling world rhythms. With inspiring music, a beautiful candle-lit atmosphere and sensitive guidance, we create a magical, safe space for people of all backgrounds to explore the freeing and powerful language of movement.

We begin each workshop with a breath meditation, designed to quite our minds, bring the focus inward and release tension. Moving from the meditation into movement, we leave a lot of space for participants to explore their own dances of stretching and awakening - giving plenty of time for dancers to sink into their movement.

As the night unfolds, with ever-changing music to support shifting moods and images, facilitators Monica Favand and Samantha Persoff offer various movement structures and imagery (that offer opportunities for dancers to explore solos as well as duet and group dances), as well as plenty of space for dancers to follow their own impulses and dive into the music.

Go deep, get wacky, vent stress, feel graceful, dance in pure joy - the music journeys through rhythmic, atmospheric and melodic passages, supporting continuously transforming moods.

No dance experience is required to attend the workshop, just a willingness to be in the moment and let the body take over!

ABOUT TRIP MUSIC ENSEMBLE:

The TRIP Music Ensemble has been playing music togethor for the past nine years - offering an improvisational journey inspired by and supporting the dance. The musicians offer gorgeous ambient landscapes, joyous world percussion and soulful vocals. Surprise instruments and guest players frequently add to the blend.

Ron Bartlett - Djembe & World Percussion
Charlie Campagna - Acoustic & Electric Guitar, Electronics, Bass
Eric Potter - Electric Guitar & Electronic Treatments, Bass
Hector Torres - Box Drum (Cajon) & World Percussion
Hamilton Sterling - Bass